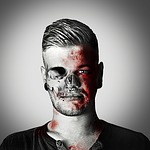 Here at Grouse, we don't really subscribe to the whole "keep Halloween out of Australia" thing. Dressing up,having parties and handing out tons of lollies to kids? Fucking awesome. Let's do this thing!
Lollies aside (yeah we're not going to start saying "candy", don't worry about that) the Halloween period is also a great excuse to watch a bunch of horror movies. We'll help you out with the movie part today; here's "Perished", a brilliant little Australian-made short film that's full of zombies. Have a watch! It's perfectly suited to viewing during a lunch break, if having lunch with the undead is something that sounds good to you.
Wasn't that great? The folks who made that ended up going on to make another little short film that you may have seen, earlier this year. If you like their stuff, you'll probably want to follow the Perished Facebook page. Or don't. We're not the boss of you.